Gold Ingots
Ten pieces of gold from the wreck weigh a total of 50.4 pounds. Most are disk-shaped, and one is an irregularly shaped piece. The disk-shaped ingots were cast by pouring melted gold into shallow circular holes in the ground. Two disks bear the stamps of Roman numerals V and VII. These numbers probably are owner's marks, not related to weight or gold content. Three small, crescent-shaped indentations also are on the flat sides of two of the ingots. The ingots range in diameter from 2.5 inches to 6.1 inches.
Spanish officials had strict control of precious metals leaving the New World. They normally marked ingots with many insignia, tallies and stamps. The absence of such marks on the gold pieces from El Nuevo Constante means that they were not shipped legally. Also, since no gold ingots are on the cargo list, they probably were smuggled on board.
Click on the images to the left for a closer look.
Return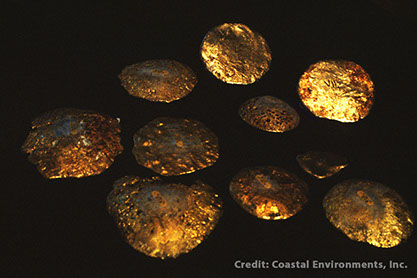 Next