GPS Coordinates: Latitude: 31.823138 Longitude: -91.8155
Driving Directions:
— In Harrisonburg, from North Bushley Street, head toward the Duty/Enterprise Ferry on La 124 West. Go 3.9 miles to marker on left.
— From La 559 at the Duty/Enterprise Ferry, head south on La 124. Go 12.5 miles to marker on right.
Number of Mounds: 1
Number of Visible Mounds: 1
Summer Viewing: Poor
Winter Viewing: Fair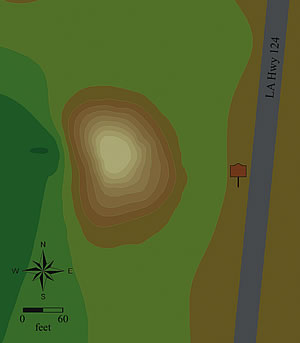 Alexander Mound is a conical mound almost 60 feet west of La 124; it measures about 101⁄2 feet high and 98 by 130 feet at its base. Overall, the mound is in excellent condition. Coring has shown the mound was constructed in two stages, with Stage 2 built soon after Stage 1. Radiocarbon dating of charcoal from beneath the mound suggests that mound building began between 39 BC and AD 209 (Marksville period). Artifacts found nearby are also of this age. Archaeologists believe that Alexander Mound may be a southern extension of a six-mound complex called J.W. King Place. Plowing has reduced those mounds, north of Alexander Mound, and they are hard to see.